I 'm going to tell you how to walk into you Miracles, Live in your Abundance, and Measure up to Jesus'Full stature!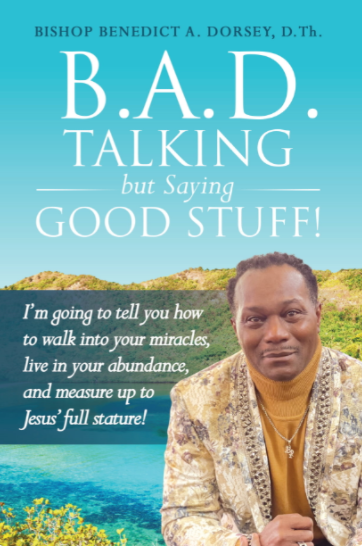 B.A.D. Talking but Saying Good Stuff
 Author: Benedict A. Dorsey
Finally, a book for those who are "there," "almost there," or "ain't nowhere near there," in their attempt to be like Christ.
For many believers today, the prospect of becoming one with God is an impossible achievement. Yet, the bible says, "Be ye holy for I am holy." Because the scripture dictates to us to be holy, being holy is the goal. B.A.D. Talking illuminates a way through the darkness to reach the Light. With a poignant, peaceful, and practical tone, Benedict A. Dorsey urges you to cease living a life that has been morally wounded and disabled in the battles and struggles of life. Benedict wants you to PAY ATTENTION to happenings in your life. Every single thing in a Christian's life has a purpose. The good, the bad, and the ugly all have a purpose. WAKE UP! Be sober! This faith-based book demystifies the life application of the Word of God and reminds you about what God can do for us, what God can do in us, and what God is able to do through us. Pastor Dorsey wants to make sure you know your calling in Christ Jesus. The book is rich in doctrine, excellent in life application, and lays out practical strategies that will free you from the trap of destructive anti-Christian behaviors and enable you to live God's kind of life, "Zoe Aionion." God's kind of life is wealthy; wealthy socially, mentally, emotionally, physically, financially, and spiritually.
The author talks to you where you are in simple everyday language. Not a lot of the Christian babble, but honest-to-God good stuff you can use to improve your Christian walk. He doesn't come off sounding super-spiritual but genuine and honest. B.A.D Talking consists of fourteen chapters that offer a poignant, reliable philosophy to follow to reach the Head realm in Christ Jesus, to elevate your relationship with God, and to start living your life abundantly! These 14 bite-sized chapters serve up a new twist on well-known bible characters, sage advice, easy to apply life principles, and a few scriptures translations according to Benedict A, Dorsey, to help you:
Identify and change the self-sabotaging beliefs and behaviors that have stagnated your spiritual growth,
Create a life full of abundance and create it NOW, and
Crucify any ungodly anti-Christ behaviors and habits.
B.A.D. Talking says some tough stuff about you. You may never know why you are how you are, but you don't have to stay that way. It declares you don't have to love the things about you that you hate and have not been able to change, but it is your job to pack those things up and take them to a God who can transform them into stuff about you to love. Don't settle for the weak excuse "I was born that way" as a reason to stay that way. The presence of Christ means power. Get and stay in His presence.
Christians must know that the Force is with them. Not some "Star Wars" phony Force but the real Force that created heaven and earth, the Force that got a girl pregnant without a man, the Force that raised Jesus from the grave, the Force that washes away the sins. The Force, the totality of the Power of God, is available to you. Let's go get it.
Selfless giving is the art of living.